AIRBRUSH CHOCK SHIMMER: THE SHINY HYDRO-ALCOHOLIC FOOD COLOUR FOR AIRBRUSH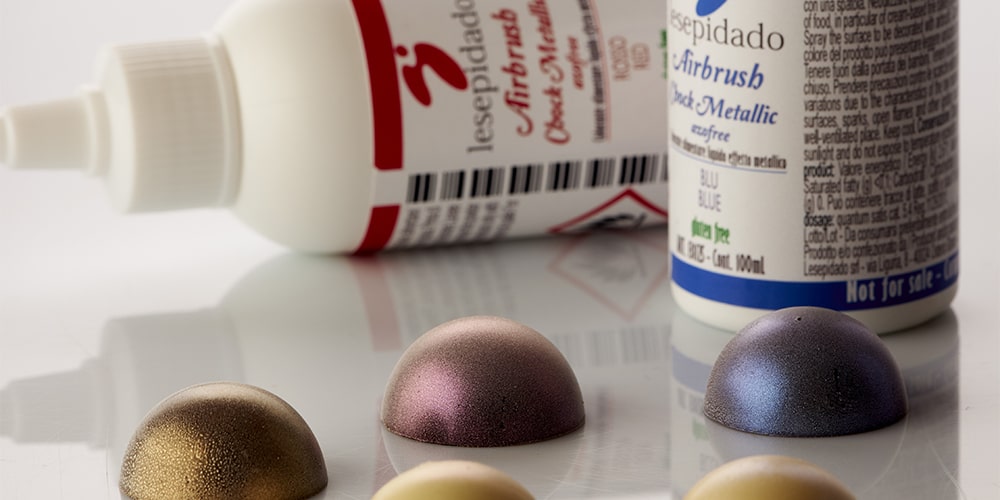 Lesepidado, Italian leader in the engineering and the manufacturing of food printers, is also producer of food colours like Airbrush Chock Shimmer, the shiny hydro-alcoholic colour suitable for decorating and colouring cakes, biscuits, chocolate, wafer, wafer paper, pastry based on sugar paste and any other surfaces you want to garnish with drawings or decorations of visual impact.
Airbrush Chock Shimmer is a hydro-alcoholic colour with shiny effect realized with raw materials that make it possible to give to the product an iridescent effect depending on the reflection of the light on the subject to decorate.
This kind of colouring is particularly suitable for dark based surfaces, on which it is possible to appreciate the original effect in semi-transparency. If used on a light base, the final effect is a slight pearled effect.
As the complete Lesepidado range of products, Airbrush Chock Shimmer has been developed and manufactured in a BRC and IFS certified facility, where no raw materials containing gluten are used.
We can realize colours and packaging upon request.
Please contact us to receive information about our complete range of products.