GHIOTTONE: THE CUSTOMIZED FOOD PRINTER FOR LARGE VOLUMES
Ghiottone is Lesepidado's large size printer for wafer paper, cakes, biscuits or sugar paste, developed for industial productions. Designed for massive and industrial use, Ghiottone guarantees high performance and productivity: capable of printing on a surface of 1605 by 3200 millimeters, it can cover the complete area in 13 minutes with a resolution of 720x720 dpi.
Ghiottone, furthermore ensuring excellent quality results as a printer for wafer paper, is capable as well of highest performances by printing biscuits, small and large size, cakes, chocolate and many more products. In accordance with Lesepidado's quality standards, the used inks are entirely edible.
Ghiottone is a customized food printer: thanks to its multiple functions and to its high technological rate, it is possible to customize its functions depending on your requirements. Ghiottone is also provided with a vacuum system which makes it a perfect food plotter for extremely detailed artwork both on sheets and wide surfaces.
The printer for wafer paper Ghiottone prints thanks to a set of 8 refillable cartridges that, if necessary, can also work in double full colour (2xCMYK) on shaped wafer paper, without losing definition. Besides, Ghiottone is provided with a professional RIP software to operate digitally on the project, managing the colour curves and keeping the ink consumption under control.
Also the ink of the refillable cartridges is realized by Lesepidado and the entire production chain of the range is 'made in Italy'. Ghiottone is a customized food printer of considerable dimensions and weight, 110 kilograms, specifically meant for the confectionery industry at high production volumes.
Ghiottone is Lesepidado's suggestion for customized food printers. It is an innovative product mainly characterized by its printing quality: in fact, thanks to the specific RIP software, Ghiottone can print at 540 dpi resolution, or 720 dpi, up to 1440 dpi, taking a short time, also depending on the printing resolution, to operate on the complete printable area. It is also provided with a comfortable touch-screen to keep the printing operation under control, step by step. Both the plane and the printing light can be customized depending on the needs.
The printing bar of the printer for wafer paper Ghiottone is removable in order to facilitate and simplify the replacement operations in case of failure or in case of switching to a next model. Ghiottone has been realized to last and to make the frequent decorating operations, typical of the confectionery industry, more efficient.
Ghiottone is offered including the guarantee document, manual of instructions and USB driver, dedicated RIP software, power cable, USB cable, kit of cartridges, starting set of inks and cleaning solution.
MAIN ADVANTAGES
Large print surface
Large size cartridges
Specific RIP software
Vacumized print surface for printing sheets
Touch-screen on the printer
FOR WHOM IS IT MEANT?
Ghiottone, realized by Lesepidado, is the customized food printer for the confectionery industry that requires high quality standards on high production volumes.
---
TECHNICAL SPECIFICATIONS
| | |
| --- | --- |
| Printable area | 100x240cm |
| Printing resolution | 540dpi, 720dpi, 1440dpi |
| Printing time | 7'0" |
| Weight | 110Kg |
| Max. voltage | 110/240v |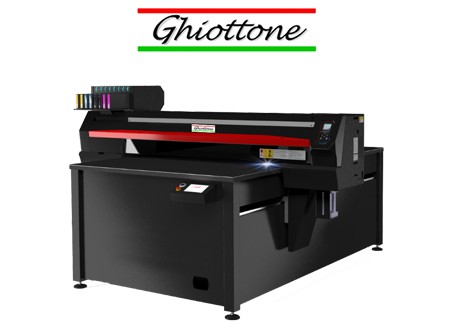 Cartridges
Cyan – Magenta – Yellow – Black




Suitable Inks
100 ml / 500 ml / Cleaning