DOLCINA PRO: THE HIGH RESOLUTION FOOD PRINTER FOR PASTRY SHOPS
Dolcina Pro is the High Resolution A3+ food printer, developed by Lesepidado to make your sweet creations even more exceptional. Handy and versatile, this food printer is most suitable for pastry shops and has been especially developed for decorating products of different weights: from cakes to jellies, from macarons to marshmallows, from white chocolate to biscuits, Dolcina Pro is both suitable for pastry shops and for larger production requirements.
Dolcina Pro has been entirely developed in Italy by Lesepidado in order to print both on products on even surface and on products that are placed in a tray: thanks to the height sensor, which makes it possible to detect automatically the dimensions of the prodouct and thanks to which it is possible to print on cakes up to 14 cm of height, Dolcina Pro is able to print precisely, avoiding the risk of accidental impact, on the surface of cakes, marshmallows, chocolate, macarons, rolled fondant and many other kinds of products.
The printer is provided with cartridges for edible inks, placed externally in order to refill them quickly and easily. Thanks to the laser technology, applied by the automatic height sensor, the nozzles will always be placed at the ideal distance to realize high definition printing without any ink waste. The area on which the printing can be performed is 32,5x44 centimeters, by a maximum height of 14 centimeters.
Dolcina Pro is a food printer for pastry shops: in fact it is possible to place products on the plane up to 15 kg of weight. Its quality is also emphasized by the versatility of the software, thanks to which it is possible to send out the printing of an image from any software.
The food printer for pastry shops Dolcina Pro is a compact device, with limited dimensions, perfect both for industrial production and for small pastry shops. Just 44 centimeters high, 90 centimeters wide and 63 centimeters deep, Dolcina Pro can easily be placed in any food production line. Besides, its versatility emphasized by the precision of its printing, both on large surfaces, such as cakes, and on small surfaces, such as biscuits, macarons, chocolates and so on. Further, the High Resolution Printer Dolcina Pro makes use of the potentiality of the laser technology by placing the nozzles at the necessary distance to obtain graphics which are as close as possible to the initial artwork, even on soft surfaces such as jelly, cremes, icing sugar and many other kinds.
In less than two minutes' time Dolcina Pro can print full A3+ size without any operator intervention to adjust the height of the printing head and without any waste of ink, allowing precise printing with less efforts, less waste and more saving.
Among the available optionals, it is possible to request the inclusion of special standard or customized templates, which increase considerably the production process and assure at the same time that the images are printed on the exact spot, exactly centering the products on the plane in the right place, corresponding in terms of software with the spot where the image should be placed, for a perfect result of the selected artwork.
Also the inks are entirely realized by Lesepidado: the best quality of raw materials, together with a strong disposition towards technology, has permitted to provide the range of High Resolution Printers with unique characteristics on the market, furthermore being able to claim an entirely 'made in Italy' production chain.
Dolcina Pro is offered including the usage and maintenance manual, the USB driver, the power cable (220v, 50-60 A), the USB cable for the transfer of projects and a kit of inks for filling the cartridges.
MAIN ADVANTAGES
automatic adjustment of the printing height
printing on products up to 15 kg of weight
printing on products up to 14 cm of height
low-cost printing
large external cartridges
four colours for vivid images on any support
Lesepidado software included
Possibility of using AZO, AZO-free, ME and FDA inks
FOR WHOM IS IT MEANT?
Dolcina Pro is the High Resolution Food Printer suitable for small pastry shops, even with larger production requirements, thanks to its quality and reliability.
---
TECHNICAL SPECIFICATIONS
| | |
| --- | --- |
| Size | 90 x 63 x 44 cm |
| Weight | 30 Kg |
| Printable area | 32,5 x 44 cm |
| Printing time (A3+) | 1'39" |
| Max. weight of the product | <15 Kg |
| Max. Voltage | 220v – 50/60Hz |
| Max. product height | 14 cm |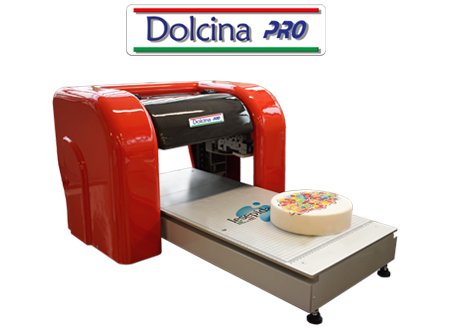 Cartridges
Cyan – Magenta – Yellow - Black




Suitable Inks
100 ml / 500 ml / Cleaning