DOLCISSIMA 3.0: HIGH RESOLUTION FOOD PRINTER FOR QUALITY PRINTS
Dolcissima 3.0 is the historic food printer with refillable cartridges that has made history in the industrial confectionery sector. Dolcissima 3.0 is the printer that has been designed and developed by Lesepidado for the food sector: it is provided with 4 refillable cartridges and can print surfaces 11 centimeters high from the base.
Dolcissima 3.0 is the food printer with tray designed specifically for high resolution food printing operations: the maximum reliability of this great printer lies in the high printing quality that remains constant also when very large prints are involved. Dolcissima 3.0 prints without failure on several surfaces: biscuits or macarons, marshmallow, cakes or white chocolate, the printing quality does not change by changing size or consistency of the surfaces.
The possibility of modifying the depth of the tray makes of Dolcissima 3.0 a food printer with refillable cartridges suitable for more operations. Adjusting Dolcissima 3.0's tray, this high resolution food printer allows to print on products of different thicknesses. The printing occurs through 4 refillable cartridges and the integrated software keeps the consumption under control. Dolcissima 3.0 needs only 5 minutes to print entirely an A3 size.
Dolcissima 3.0 is a high resoluton food printer that can be placed in an industrial pasty laboratory.
High resoluton food printer Dolcissima 3.0 is able of receiving artwork from any software. Like for the complete range, the edible inks are realized in compliance with Lesepidado's high quality standards. A print obtaind by using Dolcissima 3.0 has a photographic performance on surfaces known to be difficult to handle, such as whipped cream, creams, icing sugar and marzipan.
Dolcissima 3.0 is a food printer provided with a tray that can be adjusted to carry out prints on horizontal surfaces up to 11 centimeters high. This makes of Dolcissima 3.0 a reliable and user-friendly printer.
Dolcissima 3.0 is offered including guarantee document, manual of instructions, alson on USB stick, power cable and USB charging cable, a level and a manual screwdriver, a starter set of inks a set of refillable cartridges and specific cleaning solution.
MAIN ADVANTAGES
Reliable and user-friendly engineering
Wide printing area
Tray with adjustable height
Refillable cartridges
Printing of large volumes
Possibility of sending out projects from any printing software
Low cost and high-impact prints
FOR WHOM IS IT MEANT?
High resolution food printer Dolcissima 3.0 has been designed for industrial pastry laboratories that operate with large production volumes and require quality prints.
---
TECHNICAL SPECIFICATIONS
| | |
| --- | --- |
| Dimensions | 86 x 88x 40 cm |
| Weight | 49 kg |
| Printing area | 37,5 x 60 cm |
| Print speed (A3+) | 5' |
| Maximum load | 4 Kg |
| Supply | 220v – 50/60Hz |
| Maximum product height | 11 cm |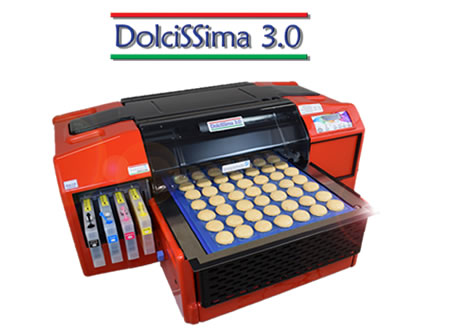 Cartridges
Cyan - Magenta - Yellow - Black




Suitable Inks
100 ml / 500 ml / Cleaning