DOLCISSIMA 4.0: HIGH RESOLUTION HEIGHT ADJUSTABLE FOOD PRINTER
Dolcissima 4.0 is the refinement of the 3.0 serie that has been so successful in the semi-industrial bakery. The high-resolution food printer Dolcissima 4.0 has been designed and developed by Lesepidado for the food sector: it is provided with 9 rifillable cartridges and can print on surfaces up to 11 centimeters of height from the base.
Dolcissima 4.0 is the food printer with tray specifically designed for high resolution food printing operations: maximum reliability for a product that is capable to operate on surfaces of 37,5 centimeters by 60 centimeteres, mantaining a very high graphic quality. Dolcissima 4.0 can operate on many different surfaces depending on the need: from biscuits to macarons, from marshmallows to cakes, the printing quality does not change by switching the size of the surfaces and their consistency.
One of Dolcissima 4.0's peculiar characteristics is the possibility of modifying the depth of the tray, making it a height adjustable food printer that can meet a large variety of applications just by the adjustment of the printing base. The operations adjoin a belt of 8 huge rechargable cartridges, electronically controlled by the printer that monitors the consumption. This means, for Dolcissima 4.0, the possiblity of printing entirely an A3 area in only 5 minutes.
Dolcissima 4.0 is a high-resolution food printer that can easily be placed in a semi-industrial bakery working place. The printer's performances are ideal for large volumes, taking the wide printing surface and Dolcissima 4.0's dimensions into account. With a height of 33 centimeters and a width and depth of 88 centimeters, Dolcissima 4.0 is a compact printer that requires sufficient working space. For this reason, it is especially suitable for medium-high production volumes.
Extremely versatile, the high-resolution food printer Dolcissima 4.0 is capable of receiving printing files from any software. Such as for the complete range, each component is 'made in Italy' and the edible inks are realized in compliance with high quality standards by Lesepidado. In addition, printing with Dolcissima 4.0 offers a photographic performance even on notoriously challanging surfaces such as whipped cream, creams, icing sugar and marzipan.
Dolcissima 4.0 is a manually height adjustable food printer, through the positioning of the work surface inside the tray. This makes Dolcissima 4.0 an extremely user-friendly and reliable printer.
Dolcissima 4.0 is offered including document of guarantee, manual of instructions also on USB stick, power cable an USB charging cable, a level and manual screwdriver, a set of cartridges and a starting set of inks, in addition to the specific solution for cleaning the printer.
MAIN ADVANTAGES
Reliable and user-friendly engineering
Huge printing area
Height adjustable tray
Capacious cartridges
Printing for large volumes
Possibility of sending out projects from any printing software
Low-cost high-impact prints
FOR WHOM IS IT MEANT?
Dolcissima 4.0 food printer has been developed for semi-industrial bakeries that require fast printing on large production volumes.
---
TECHNICAL SPECIFICATIONS
| | |
| --- | --- |
| Printable area | 37,5×60 cm |
| Size | 88x88x33 cm |
| Weight | 38 Kg |
| Max. product height | 11 cm |
| Printable area speed | 5'00" |
| Max weight on tray | 4 Kg |
| Max. Voltage | 110/220v – 50/60Hz |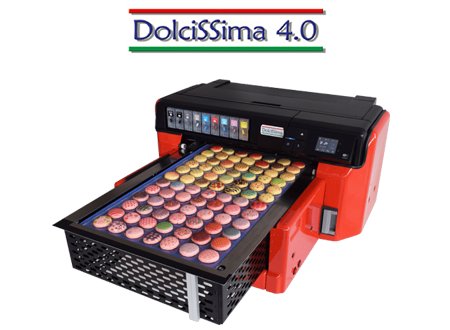 Cartridges
Cyan - Magenta – Yellow – Black – Light Cyan
Light Magenta – Light Black – Light Light Black








Suitable Inks
100 ml / 500 ml / Cleaning