Cocoa Butter Metallic AF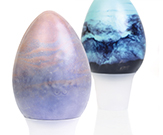 Coloured cocoa butter with metallic effect perfect to colour and decorate chocolate and fat masses. Ideal for dark surfaces, like dark chocolate, it gives a metallic effect. it gives a shiny effect when used on light surfaces like white chocolate.
Mode of employ
Apply the melted product with a brush to decorate the surface or dilute the melted cocoa butter in chocolate and apply it with a glue gun. An original velvet effect will be obtained.
---