PASTICCINA 4.0: THE A3 FOOD PRINTER FOR SMALL AND LARGE SIZES
Pasticcina 4.0 is the A3 size food printer realized by Lesepidado taking pastry shops into account that want to give a personal touch to their creations. Developed as a compact device, Pasticcina 4.0 is perfect for printing wafer paper sheets, icing sheets, transfer sheets and Easyprint sheets.
Not only for A3 size, Pasticcina 4.0 is also the food printer for A4, A5 and A6 size, minimum printing size. Fast and reliable, this printer is ideal both for medium and large print runs, being able to rely entirely on Lesepidado quality both for physical compontents and for software.
Pasticcina 4.0 proves to be excellent and highly performing both for simple and complex graphic projects. Whether it concerns corporate logo's or images to place on top of a birthday cake, Pasticcina 4.0 prints in the wished size on edible sheets while mantaining the details of the project.
Pasticcina 4.0 is an extremely performing A3 size food printer: in fact, the needed time to cover entirely an A3 size sheet is only two minutes. Besides, Pasticcina 4.0 also simplifies the preparation of the print: in fact the printing heads draw the ink from external refillable tanks, larger than the usual cartridges. This allows to avoid the time waste due to the frequent recharging of smaller cartridges, especially in case of longer print runs.
Lesepidado has furthermore given Pasticcina 4.0 a high ergonomic grade by keeping the external tanks transparent and facilitating this way a faster and more user-friendly maintenance.
Pasticcina 4.0 offers a further advantage as 'versatility' is the 'slogan' of this A3 size food printer, Lesepidado has chosen for this characteristic also as far as the software is concerned: Pasticcina 4.0 infact is compatible with any printing software.
Pasticcina is the compact A3 and A4 size food printer that finds its natural place in small and medium-size pastry shops that have a printing frequency of 25/30 sheets a week, no matter which kind of sheet.
Pasticcina 4.0 is offered with a manual of instrucions and USB driver, certificate of guarantee, a set of inks, power cable and USB cable and a kit of ink tanks.
MAIN ADVANTAGES
Compact and light, ideal for artisanal pastry shops
Low cost high-impact prints
Large external tanks, transparent and ergonomic for refilling
Possibility of sending out graphic projects from any software
Full-colour printing
FOR WHOM IS IT MEANT?
Pasticcina 4.0 is the A3 and A4 size food printer specifically studied for any professional surface, also of small size. Thanks to its external tanks it allows faster and more user-friendly refilling operations.
---
TECHNICAL SPECIFICATIONS
| | |
| --- | --- |
| Max. printable area | 32,9×48,3cm (A3+) |
| Printing sizes | A4, A3 |
| Printing time (A3+) | 0'32" |
| Ac supply | 220v – 50/60Hz |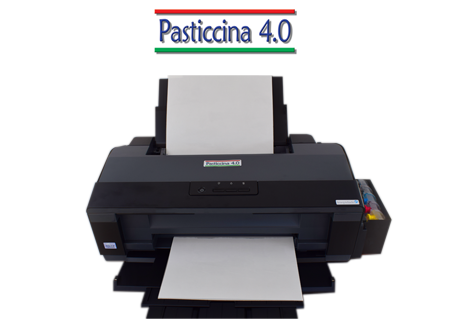 Cartridges
Cyan – Magenta – Yellow -Black




Suitable Inks
100 ml / 500 ml / Cleaning
Edible sheets: wafer sheets, sugar paste sheets, chocotransfer