PASTICCINA EASY: THE MULTIFUNCTION FOOD PRINTER DESIGNED FOR ARTISANAL CONFECTIONERY
Lesepidado, Italian leader in the production of food printers, introduces Pasticcina Easy: the multifunction food printer designed for artisanal confectionery. Also ideal for those who are not familiar with food printing, Pasticcina Easy is user-friendly and efficient and studied to offer you fast and profitable solutions for the realization of your cake decoration.
Pasticcina Easy is a compact multifunction food printer with a refined and elegant look, that can easily be placed on the work table of any pastry shop and that, in a short time, will turn out being an indispensable instrument for all printed decorations: whenever corporate logo's are involved or fun art to place on top of birthday cakes, Pasticcina Easy is able to operate detailed and eye-catching prints.
Pasticcina Easy can print on icing sheets, transfer sheets and wafer paper sheets. You can also test it on the innovative Easyprint by Lesepidado, the edible sugar-free and gluten-free sheet, not containing E171, developed to create beautiful decorations suitable for everyone.
Convenience is with no doubt one of the food printer's main streights. It does not require any specific software to send out print operations, since this multifunction food printer is compatible with all available devices: from a simple USB stick up to your tablet. It is also provided with an efficient scanner with a very high quality performance.
Regarding the printing time needed by Pasticcina Easy, printing an A4 sheet requires less than 80 seconds while it takes 90 seconds to print an A3 size.
Pasticcina Easy is the perfect printer to start exploring Lesepidado's world of food decoration or to complete the range of decoratioins in your pastry shop with an instrument that is able to meet your customers' requirements.
Pasticcina Easy is provided with five separately replaceable not rechargeable cartridges. It is suitable for small pastry shops that are not printing more than 30 sheets a week. The great versatility of this
multifunction food printer
can be found in the compatibility with projects sent out by mobile phones, to get fast quality products.
Pasticcina Easy multifunction food printer is offered including the instructions manual, set of cartridges and kit for cleaning the printing heads, power cable, USB cable, waste tank and Lesepidado guarantee documentation.
ADVANTAGES OF PASTICCINA EASY
Compact and light
Suitable for small print runs
Prints from any device or software
Scanner included
USB or WiFi connection
FOR WHOM IS IT MEANT
Pasticcina Easy is the multifunction food printer realized by Lesepidado for artisanal pastry shops that want to extend their range of decorations on pastries and cakes. Lesepidado produces printers, food colours and edible inks and, thanks to a constant observance of its own quality standards, is leader of the sector. Rely on Lesepidado's experience to add an original touch to your pastry creations!
---
TECHNICAL SPECIFICATIONS
| | |
| --- | --- |
| Size | 48x36x16 (h) cm |
| Weight | 8,4 Kg |
| Printing time | A4(1'15'') A3(1'52'') |
| Max. Voltage | 220v – 50/60Hz |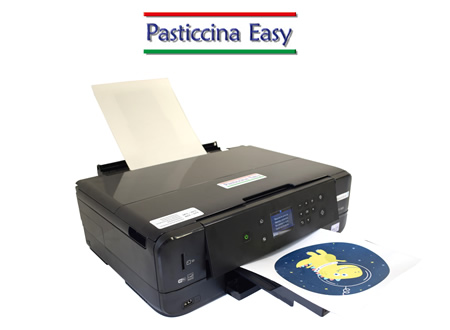 CARTRIDGES
Cyan – Magenta – Yellow – Black PK - Black BK





Cleaning cartridges
Edible sheets: wafer sheets, sugar paste sheets, chocotransfer