BUONISSIMA 4.0: IDEAL FOR LARGE SIZE FOOD PRINTING
Lesepidado introduces Buonissima 4.0, the A2 size food printer ideal for large size food printing. Buonissima 4.0 is the printer for sheets that has been especially designed for semi-industrial food printing: from A6 up to A2+ size, this piezo technology inkjet printer is able to print onto wafer paper sheets, transfer sheets, icing sheets or Easyprint sheets, always with the utmost precision.
Buonissima 4.0 printer is suitable for food prints of large dimensions: in fact, thanks to its technology, it can print in 4 minutes a surface of one square meter, with 100% coverage. Thanks to its 9 cartridges, inserted into the body of the the printer, Buonissima 4.0 looks compact and takes little space, developed for continous usage and large production volumes, intensive working sessions, with simple 220 v at 50-60 Hz power supply, it proves to be perfect for being inserted into a production line of a semi-industrial bakery.
The 9 separated 80 ml cartridges, easy to remove and rechargable, guarantee a printing process without waste, allowing to print a square meter of product with a 100% coverage at intensity 100 with only 10% of ink. Also the ink is manufactured by Lesepidado and is realized in order to assure a maximum performance and minimum waste.
Buonissima 4.0 makes it possible to obtain the maximum result for food prints of large dimensions thanks to the peculiar colour formulations that are possible to obtain through the accurate work of the printing heads; thanks to the software it will be possible to set up printing of several designs at the same time. The A2 size food printer Buonissima 4.0 is still programmed to perform even starting from files deriving from generical software, next to the one signed by Lesepidado.
Lesepidado's suggestion for food prints of large dimensions is mainly based on the printing quality and Buonissima 4.0 A2 size food printer, makes no exception. The prints of Buonissima 4.0 have a photographic quality, they are perfect for detailed rappresentations, corporate logo's or photographs. The quality will remain constant, even after several hours of usage of the printer.
Buonissima 4.0 is suitable for printing onto wafer paper sheets, icing sheets and transfer sheets, always with the utmost precision and care for the used quantity of ink.
With Buonissima 4.0 the semi-industrial bakery can be provided with a device of utmost performance for for food prints of large dimensions: efficient, compact, affordable and easy to use. Trusting Buonissima 4.0 means full trust in the 'made in Italy' Lesepidado quality, in addition to the guaranteed technical assistance (also by phone) on the product and the supply of the specific inks for its range of food printers.
Buonissima 4.0, A2 size food printer, is offered including the guarantee documentation, the instructions manual with usb driver, the power cable, the usb cable for communication between the pc and the printer, a kit of nine ink cartridges (starter kit), a kit of cleaning solution for the printing heads and an extra waste tank.
MAIN ADVANTAGES
Printing from any software
Large printing area
Compact and fast
9-colour cartridges for impactful and precise prints
Refillable cartridges
Highest printing definition
Extended use
Waste optimization
FOR WHOM IS IT MEANT?
Buonissima 4.0 has been developed for semi-industrial bakeries, industries, bakery shops and for any medium-large production volumes. Buonissima 4.0 is not suitable for small productions.
---
TECHNICAL SPECIFICATIONS
| | |
| --- | --- |
| Max. printable area | 43,1x61cm (A2+) |
| Printing sizes | A4, A3, A2, A2+ |
| Printing time (A3+) | 2'05" |
| Ac supply | 110/220v – 50/60Hz |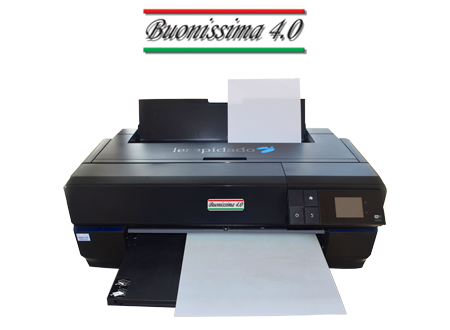 Cartridges
Cyan – Magenta – Yellow – Black
Light Cyan – Light Magenta – Light Black – Light Light Black








Suitable Inks
100 ml / 500 ml / Cleaning

Edible sheets: wafer sheets, sugar paste sheets, chocotransfer